Welcome to Shomre Hadas, the Jewish community in Antwerp, embracing and contributing towards the positive components and aspects of modernity. We are open to all members of the Jewish community and provide non-judgmental atmosphere in which Jews of all levels of knowledge, observance, and commitment can feel at home and be inspired. Feel part of the Jewish family, in which every individual is appreciated and valued, and invited to participate and contribute towards our community. We are very much part of the wider society and recognize our obligation to contribute positively.
You will find ample opportunities within Shomre Hadas to connect, grow and be inspired.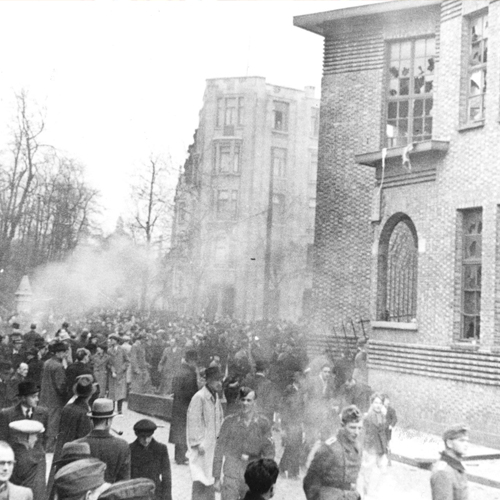 The Shomre Hadas community (Israelitische Gemeente Van Antwerpen – Shomre Hadas) is one of three communities servicing the Jewish community since aprox. 1820. During the 19th century the Jewish population of Antwerp augmented considerably: from about 100 individuals in the late 1810's to around 500 in 1847, and almost 1,000 in the late 1860's. Tens of thousands of Jewish emigrants passed through Antwerp on their way to the Americas, but of them many thousands chose to stay in Antwerp. There were about 8,000 Jews in Antwerp in 1880 and that number doubled itself before 1920.
The first large synagogue in Antwerp, built in an "oriental" style to the plans of the Jewish architect Joseph Hertogs (1861-1930), was inaugurated on Bouwmeestersstraat in 1893. This synagogue is still known as the "Dutch synagogue" because it was built by descendants of Jews who came to Antwerp from Holland in the early 19th century.
In 1929 The Synagogue 'RomiGoldmuntz' on the Van den Nestlei, a creation by the Jewish architect Joseph De Lange, was inaugurated to accommodate the growing community.
The Jewish population of Antwerp continued to grow in the first half of the 20th century and the city became the main Jewish center of Belgium. It is estimated that there were about 50,000 Jews in Antwerp on the eve of WW2, however probably only around 10 percent of them were Belgian nationals.
On May 10, 1940, Germany attacked neutral Belgium. On May 28, Belgium was surrounded and became occupied by Nazi Germany. By the time the war came to an end and Antwerp was liberated by Allied troops on September 4, 1944, only about 800 Jews had managed to survive the war.
The Jewish community grew again quite rapidly during the 1950's and reached about 10,000 members in the early 1960's, where many found work in the diamond sector.
Today, members of the Shomre Hadas have a modern orthodox Jewish way of life. The community has its own synagogues, mikvah, kosher label, burial society, and organizes many events and activities to support the local community.